Recorded the training camp held in Arles, France in January 2015.
A super valuable seminar video that gathered world competition medal-class elites from 12 countries by the first attempt of the local karate federation.
Turkish karate legend, world champion Haldun Alagas teaches the mystery!
Members of the All Japan National Team also participated.
Impossible technique, practice system that I have never seen! You can see the tactics, movements, and practice menu at a glance!
This is a four-piece seminar for national coaches and active world champions!
ARLES CAMP 2015 in FRANCE from CHAMP_JKFan on Vimeo.
*Tereq Abdesselem(FRA) "New Kizami-Egyptian Style"
*Zabihollah Pourshayb(IRI) "Iranian Style Quick Reaction"
*Yaser Sahintekin(TUR) "Sparring,Reaction,Defensive Attack & 3types Combination"
*Haldun Alagas(TUR) "Champion's Distance and Tactics"
And more…
Although it is a work five years ago, there are still a lot of gorgeous members who participated from the national team!
An epoch-making, fun and wonderful "Karate World Seminar".
I hope you can see such a wonderful sight again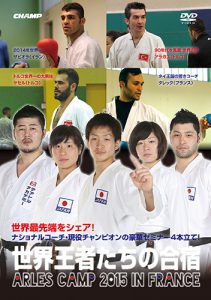 Purchase from here
Click here for VOD ver. (with trailer)
Click here for DVD ver.
#Haldun #Alagas #karate #kizami #legend #DVD #VOD #Tereq #Abdesselem #champion #Yaser #Sahintekin #Zabihollah #Pourshayb