The English version of JKFan, the only karate magazine in the world, has been released this month.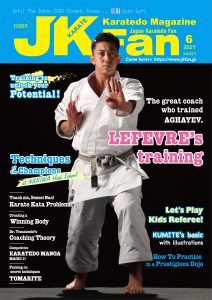 Until now, you could only read in Japanese.But from this month, you can read in English.
So we want everyone in the world to know about karate more than ever.
The English version of JKFan can be purchased at the Amazon Kindle Store (e-books only sold).
Karatedo Magazine JKFan Jun 2021
ONLY $9.27!!
————-contents—————
World Karate, back on track!
Coach of Champions
Junior Lefevre Seminar in Naniwa part 1
New Theory! The Basics of Kumite
Ryo Kiyuna
Turning point for the absolute champion
National High School Athletic Conference
Male Team Kumite and Male Team Kata
Double Champion!Naniwa is back!
New DVD release announcement!
Exciting Practice System
YAGURA-DOJO, Osaka, Japan
Power Line Training
Kihon-kata 2 Heian-nidan Part 1
Nao Moro-oka's lesson on how to solve problems for kata players
Creating a winning body
Sodium & Potassium By Mari Hirano:Sports Nutrition Coach
TOMARITE……..Passing on the secrets of practical comba
By Yoshitomo Yamashiro
Trajectory of Tee Body Work 2
LATEST NEWS
All JAPAN KARATEDO SHOTOKAN
SHITOKAI
RENGOKAI
GOJYUKAI
WADOKAI
JAPAN KARATE ASSOCIATION
Dr.Tomabechi's Coaching Theory
The Habit of Running Away from Unpleasant Things
by Hideto Tomabechi
Prestigious Dojo Practice Menus Exploring
Yuya's karate school, Hokkaido
Have fun while you work out!
Part 2 Strengthen your keri! (Hip flexor)
Basic Karate Training for Juniors by Yuko Goto
Karatedo Comic "MAGIC Ⅱ"
.Click on the flag to access Amazon Kindle Store in your country














There are many other books about karate here.
For more information, search for "karate champ" at the Amazon Kindle Store.You will surely find what you want.
CRICK HERE!