The English version of JKFan, the only karate magazine in the world, has been released this month.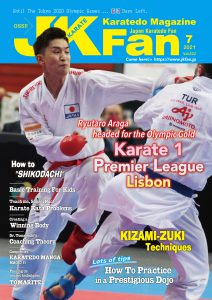 Until now, you could only read in Japanese.But from this month, you can read in English.
So we want everyone in the world to know about karate more than ever.
The English version of JKFan can be purchased at the Amazon Kindle Store (e-books only sold).
Karatedo Magazine JKFan Jul. 2021
ONLY $9.19!!
————-contents—————
JKFan Top NEWS
Olympic Selection Race Resumes!
JKFan's Advanced Explination of
"New Theory, Basics of Kumite"
The KARATE1 Premier League LISBON was held from April 30th.
Ultimate kizami-zuki" at the national high school selection tournament!
Strengthen your punches!
(Rotation of the hips and abdominal muscles)
Basic Karate Training for Juniors
by Yuko Goto
Teach me, Sensei Nao!
Kihon-kata 2 Heian-nidan Part 2
lesson on how to solve problems for kata players
Nao Moro-oka
Seibi High School Karate Club
Strong Dojo Series
New DVD release announcement!
Exciting Practice System
YAGURA-DOJO, Osaka, Japan
Prestigious Dojo Practice Menus Exploring
SHINBUKAN in Mie Prefecture
Creating a winning body
Phosphorus
Mari Hirano:Sports Nutrition Coach
Shin Tsukii's
NEW PHYSICAL LOGICCreating
The Hip Joint Acts as a Gear
Dance Training at Home for Karate!
To Stand Firmly and Properly (Foot Exercises)
By pro dancer Eriko Iisaku
Trajectory of Tee Body Work 2
TOMARITE……..Passing on the secrets of practical comba
By Yoshitomo Yamashiro
LATEST NEWS
All JAPAN KARATEDO SHOTOKAN
SHITOKAI
RENgoKAI
GOJYUKAI
WADOKAI
JAPAN KARATE ASSOCIATION
Dr.Tomabechi's Coaching Theory
My son doesn't enjoy karate
by Hideto Tomabechi
Shukugawa Karate
Keeping the tradition alive !
Karatedo Comic
"MAGIC Ⅱ"
And More
.Click on the flag to access Amazon Kindle Store in your country














There are many other books about karate here.
For more information, search for "karate champ" at the Amazon Kindle Store.You will surely find what you want.
CRICK HERE!