The English version of JKFan, the only karate magazine in the world, has been released this month.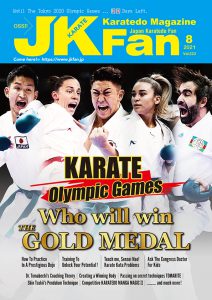 Until now, you could only read in Japanese.But from this month, you can read in English.
So we want everyone in the world to know about karate more than ever.
The English version of JKFan can be purchased at the Amazon Kindle Store (e-books only sold).
Karatedo Magazine JKFan Aug. 2021
$0.00!!  You can read FREE
————-contents—————
JKFan Top NEWS
Rika Usami was appointed as the Chairperson of the JKF Athlete Enhancement Committee.
WHO WILL BE THE OLYMPIC GOLD MEDALIST
Oss!! TOPICS
Ryo Kiyuna and Kiyou Shimizu train together at Sakumoto Academy
Olympic judges elected. Only 16 in the world, and the only Japanese
KAZUO TAKAHASHI
Strong Dojo Series
Prestigious Dojo Practice Menus Exploring
KAISHI-DOJO in Tokyo, Japan
Karate Special Talk
Masaaki Itokawa VS Rika Usami
Power Line Training
Increase the depth of your technique with simple training !
Teach me, Sensei Nao!
Nao Moro-oka's lesson on how to solve problems for kata players
Increase flexibility and range of motion in the lower body
Dance Training at Home for Karate!
Creating a winning body / Mercury
The basic swinging of the axis
Shin Tsukii's NEW PHYSICAL LOGIC Creating a winning body
Special information just before the conference
Interview with Dr. Kouji Suzuki, the conference doctor
TOMARITE……..Passing on the secrets of practical combat
By Yoshitomo Yamashiro
LATEST NEWS
All JAPAN KARATEDO SHOTOKAN
SHITOKAI
RENGOKAI
GOJYUKAI
WADOKAI
JAPAN KARATE ASSOCIATION
17th All Japan Karatedo Competition for Para-Athelets
The Essence of Okinawan Karate and its Successors
Dr.Tomabechi's Coaching Theory
by Hideto Tomabechi
Karatedo Comic "MAGIC Ⅱ"
And More
---
.Click on the flag to access Amazon Kindle Store in your country














There are many other books about karate here.
For more information, search for "karate champ" at the Amazon Kindle Store.You will surely find what you want.
CRICK HERE!