The English version of JKFan, the only karate magazine in the world, has been released this month.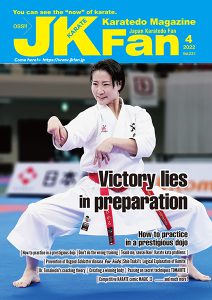 We want everyone in the world to know about karate more than ever.
The English version of JKFan can be purchased at the Amazon Kindle Store (e-books only sold).
Karatedo Magazine JKFan Apr. 2022
$0.00!!  You can read FREE
The English version of JKFan, you can read not only e-book but also paparback!
Buy it here JKFan Apr. 2022 paperback ver.
————-contents—————
JKFan Top News
Gold Mailbox Installed in Olympic Gold Medalist Ryo KIYUNA's Hometown
Ohno Hikaru & Nishiyama Kakeru
Victory lies in preparation
Teach me, Sensei Nao!
Nao Moro-oka's lesson on how to solve problems for kata players
Ayumi Uekusa Private Seminar Online Dojo GEN vol.2
Prestigious Dojo Practice Menus Exploring
Kenryukai in Osaka Prefecture
Power Line TrainingTraining
Increase the depth of you technique with simple training !
Tube Training for Karate-do
Creating a winning body
Release the Secrets of Okinawan Traditional KARATE
Karate1- Series A 2022 PAMPLONA,SPAIN
Prevent Osgood's Disease!
Dance Training at Home for Karate!
Main Kaiha of JKF / LATEST NEWS
All JAPAN KARATEDO SHOTOKAN
SHITOKAI
RENGOKAI
GOJYUKAI
WADOKAI
JAPAN KARATE ASSOCIATION
Shin Tsukii's NEW PHYSICAL LOGIC
Dr.Tomabechi's Coaching Theory
by Hideto Tomabechi
Are you training the wrong way?
Hiroki Mekaru
A New Challenge for Okinawa-kenpo
Sensing, Metaverse, and NFT TOMARITE……..Passing on the secrets of practical combat
By Yoshitomo Yamashiro
Karatedo Comic "MAGIC Ⅱ"
And more…
---
.Click on the flag to access Amazon Kindle Store in your country














There are many other books about karate here.
For more information, search for "karate champ" at the Amazon Kindle Store.You will surely find what you want.
CRICK HERE!