The English version of JKFan, the only karate magazine in the world, has been released this month.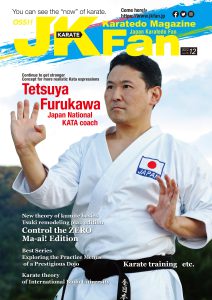 We want everyone in the world to know about karate more than ever.
The English version of JKFan can be purchased at the Amazon Kindle Store (e-books only sold).
Karatedo Magazine JKFan Dec. 2022
$0.00!!  You can read FREE
The English version of JKFan, you can read not only e-book but also paparback!

Paperback available soon
————-contents—————
JKFan Top News
World Junior Championships Japan National Team
WKF 12th World Junior, Cadet & Under-21 Karate Championships 2020
Interview with Tetsuya Furukawa, Japan National Team Coach Concept for more realistic Kata expressions
"How to analyze budo techniques"
by students of I.B.U. Karate Club
How to construct tactics that you will want to try in a match.
Operations of kumite Open Seminar Senshu version
Japan's First Karate Analyst's Amazing Data Reveals Tactics and Tips for Victory!
Prestigious Dojo Practice Menus Exploring
Isshin-juku in Chiba Prefecture
New thory Kumite Basics
Control the ZERO Ma-ai! Edition
Power Line Training
We will visit and instruct. Visit to Setagaya Gakuen & Teikyo H.S.Girls PART2
Dr.Tomabechi's Coaching Theory
The Art of "Breathing" to Experience – Inhale when uke
Tube Training for Karate-do
Prevention & Treatment Strategies
Release the Secrets of Okinawan Traditional KARATE by Takahiro Shinjo,
TOMARITE/Yoshitomo Yamashiro
JKF / LATEST NEWS
All JAPAN KARATEDO SHOTOKAN
SHITOKAI
RENGOKAI
GOJYUKAI
WADOKAI
JAPAN KARATE ASSOCIATION
Sports Nutrition Coach
Dance Training at Home for KARATE
Karatedo Comic MAGIC Ⅱ
And more…
---
.Click on the flag to access Amazon Kindle Store in your country














There are many other books about karate here.
For more information, search for "karate champ" at the Amazon Kindle Store.You will surely find what you want.
CRICK HERE!