The English version of JKFan, the only karate magazine in the world, has been released this month.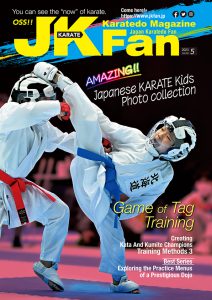 We want everyone in the world to know about karate more than ever.
The English version of JKFan can be purchased at the Amazon Kindle Store (e-books only sold).
Karatedo Magazine JKFan May 2023
$0.00!!  You can read FREE
The English version of JKFan, you can read not only e-book but also paparback!

————-contents—————
JKFan Top News
Ryo Kiyuna, Arata Kinjo, Takuya Uemura Okinawa Team
3 athletes announced their retirement from active duty
AMAZING! Japanese KARATE Kids Photo collection
New Tag Game Logic by Shin Tsukii
Do not pull hiki-te
Shin Tsukii's NEW PHYSICAL LOGIC
Training Methods to Support Top Athletes
by Shunichi Ohba
Prestigious Dojo Practice Menus Exploring
Wado-kai Mino in Gifu Prefecture
Overcome mental weakness.
Dr.Tomabechi's Coaching Theory by Hideto Tomabechi
Release the Secrets of Okinawan Traditional KARATE by Takahiro Shinjo,
Okinawa Tomari-te Master
Competitive Karate and Traditional Karate
TOMARITE/Yoshitomo Yamashiro
Main Kaiha of JKF / LATEST NEWS
All JAPAN KARATEDO SHOTOKAN
SHITOKAI
RENGOKAI
GOJYUKAI
WADOKAI
JAPAN KARATE ASSOCIATION
New theory of kumite basics
The Paradox of Gyaku-zuki & Magic Kizami-zuki
Karate Comic "MAGIC Ⅱ"
and more…
and more…
---
.Click on the flag to access Amazon Kindle Store in your country














There are many other books about karate here.
For more information, search for "karate champ" at the Amazon Kindle Store.You will surely find what you want.
CRICK HERE!