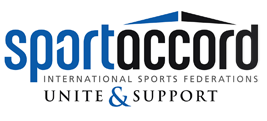 The World Karate Federation presence in Quebec SportAccord Convention last May 19 to 25, was very successful in every aspect. The campaign "the K is on the way" in order for karate to be included in the 2020 Olympics, was officially presented to the international sports community.
The WKF stand had a great resonance during the SportAccord Exhibition as many IOC members and members of the IOC Executive Committee visited our stand, discussed and were photographed with the president of the World Karate Federation Mr. Antonio Espinos. Moreover, a team of the Canadian Karate Federation had an excellent karate demonstration in the context of the Demo Sport Zone during the exhibition.
In the General Assembly that took place at the end of the SportAccord Convention, WKF made another success as far as our proposal not to change the SportAccord statutes was accepted by the majority of the General Assembly (2/3) which proves the rightness of our interventions and their acceptance by the international sports community.