Environment surrounding WKF
COVID-19 is once again rampant all over the world. Unfortunately, the Premier League (Moscow) and Youth League (Venice), which were scheduled to be held this year, have been canceled, and in 2020, all games were canceled or postponed at the end of the Premier League (Salzburg) in March. It was.
Under these circumstances, President IOC Bach visited Japan and strongly reaffirmed the realization of next year's Olympic Games with Prime Minister Suga and the Tokyo 2020 Organizing Committee.
WKF is fully prepared to show the world the best karate competition in the world, no matter what conditions the Olympic Games are held in. Please stay tuned.
WKF 50th Anniversary and Prime Minister Suga
WKF is celebrating its 50th anniversary this year. Prime Minister Suga, who sent the Video Message, stated in it that "the rigorous training of karate was a great contribution to my life both mentally and physically," from karate officials around the world. Many moving voices were received. On November 13, we paid a courtesy call on Prime Minister Suga with Executive Directors Hashimoto and Kondo of the Japan Karate Federation. The topic is next year's Olympics, 2024 Paris Olympics, 50 years of common karate friends
It was a very meaningful meeting, even though it was peaceful.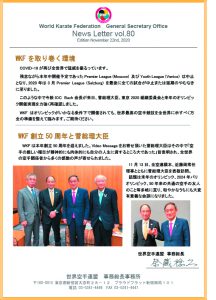 Watch karate videos on demand!!
#karate #WKF #newsletter