On the 24th, the Tokyo Organizing Committee for the Olympic and Paralympic Games held an IOC (International Olympic Committee) coordinating committee for the Tokyo Olympics at a video conference. Before the meeting to be held until the 25th, IOC President Thomas Bach, IOC vice-president John Coates, Chairman of the Tokyo Olympic and Paralympic Organizing Committee Yoshiro Mori , Governor of Tokyo Yuriko Koike, and Olympic Minister Seiko Hashimoto gave greetings.
Chairman Bach, who participated remotely from Lausanne (Switzerland), said, "We have to adapt to the new world. We have adapted this tournament to the post-corona world" for the tournament postponed to next summer due to the influence of the new coronavirus. "We have to make things," he said. "We are in the same boat position. Therefore, we are going in the same direction," he reiterated his willingness to hold the event.
Back repeated several times that next year's games have to be "fit for the post-Corona world." He said the Tokyo Olympics were the "best prepared" in history, but that will not be enough.
"We cannot just repeat the great work you have been doing, or copying it and slightly adapting it. We have to adapt it to this new world," Bach said.He showed his willingness to hold the event again.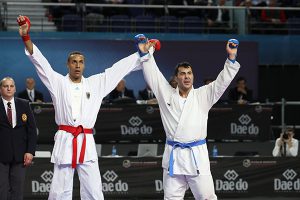 Watch karate videos on demand!!
#karate #olympic #tokyo2020 #bach #tokyo