The "63rd 2020 Kanto University Karatedo Championships" was held at Nippon Budokan on Sunday, October 4th.
This tournament is a memorable tournament that will be the first martial arts tournament to be held after the renovation work of Nippon Budokan. The Kanto Student Karatedo Federation, which sponsors the event, considers various COVID-19 infection prevention measures in all aspects of athletes, referees, and management, and prepares for them.
The tournament is held without spectators. Admission was limited to athletes and coaches, referees and management personnel. The competition schedule is completed for each event in the order of men's and women's kumite, women's kumite, and men's kumite, and the athletes and related persons of the completed event leave the Budokan. The time to enter the Budokan was also staggered for each event to avoid crowding in the hall and to limit contact between athletes from different events.
In addition, all concerned parties were required to measure the temperature when entering the Budokan, wear masks in the hall except for athletes during the match, disinfect each room, and submit an action table for two weeks before and after the tournament.
In the competition, Kumite changed from the conventional bare-faced rule to a rule to wear a shield on the mouth of the safety equipment to protect the head. In terms of form, in order to avoid the umpire's density, the scoring position was changed from the conventional scoring position in the front row to five locations up to 2018. By taking these measures, it became possible for all of them to make a enthusiastic voice, and a hot karate match was seen.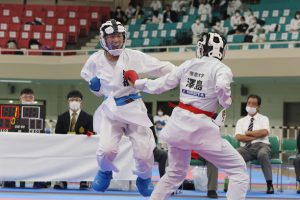 Watch karate videos on demand!!
#karate #karatedo #budokan #university #budo