The father of KARATE -Gichin Funakoshi's time-honoured form fully depicted. Long kepr away, the 1956 thirty five m/m movie of the fearless youth of Japan Karate Association's founding members led by the greatest master Masatoshi Nakayama has been completely restored and at long last released video form.
"KARATE-DO" – Reproduse form 35mm Movie from CHAMP_JKFan on Vimeo.
*Performer*
Gichin Funakoshi
Masatoshi Nakayama
Kimio Ito
Yasuo Kase
Teruyuki Okazaki
Hidetaka Nishiyama
Hirokazu Kanazawa and more…
*contents*
[Part 1. Introduction of KARATE-DO]
1.Whatis KARATAE-DO
2.TSUKI
3.KERI
4.UKE
5.KATA
6.KUMITE
7.KARATE&BOXING
8.About the KARATE tournament.
9.The KARATE which FUNAKOSHI GICHIN passed down.
10.From Japan to the World
[Part 2. Selfdefense]
1.What is KARATE-DO
2.Defense and Attack forms
3.Throwing techniques
4.Practice exercise(KANKU-SHO)
5.Defense from the Floor-sitting position
6.Defense from the Chair-sitting position
7.Defense Against Surprise attack
8.Defense Against Pistol
9.Defense Against Club attack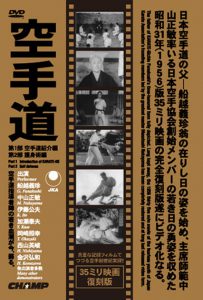 Purchase from here
Click here for VOD ver. (with trailer)
Click here for DVD ver.
#karate #karatedo #gichin #funakoshi #35mm #retrospective #oldmovie