-Easily perfect Waza without holding breath or getting tense!-
It's full of "important points" that will give you an idea!
Rika Usami, the world champion who took the whole world into a frenzy, makes her first appearance at a JKFan seminar. She taught us the basics of karate, from the basics of thrusting, kicking, and receiving, to the basics of Kata movements, points of caution, and the points of Chatanyara Kusanku. An unshakeable axis, speed, and the way to master the technique… Always remember to return to these basics
Rika Usami's Gold Seminar The world's best basics and Chatanyara Kusanku from CHAMP_JKFan on Vimeo.
[Contents]
■ Greeting & warming up
■ Basic practice of thrusting
■ Basic practice of kicking
■ Basic practice of receiving (lower stage payment, middle stage horizontal reception, hand sword reception)
■ Shape points
■ Summary of Chatanyara Kusanku
■ Flow of Chatanyara Kusanku ・ First half
■ Flow of Chatanyara Kusanku ・ Second half
■ Points of Chatanyara Kusanku
■ Chatanyara Kusanku Repetitive Practice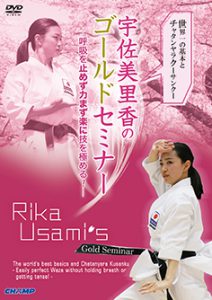 Purchase from here
Click here for VOD ver. (with trailer)
Click here for DVD ver.
#RikaUsami #karate #karatedo #Chatanyara #Kusanku #ChatanyaraKusanku #kata #keri #tsuki