This is the eternal standard.
Aim to improve the quality by upgrading the basics that you have acquired. And develop it into a technique that can be used for Kumite.
In the basic edition, you will learn the correct movement of the center of gravity on the central axis and the speed created by the operation of Chutanden. In the practical edition, you will thoroughly practice the basic technique (Tsuki) from a single shot to a combination of shots. In the special edition, the digest of many of Tatsuya Naka's matches during his active career is introduced.
The BEST KARATE of TATSUYA NAKA -Body exercises with moving Chu-tanden- 中 達也のベスト空手 -中丹田操作による運胴- from CHAMP_JKFan on Vimeo.

*Performer*
Naka Tatsuya
Shimizu Ryosuke
Inokoshi Yusuke
Kato Kiyoshi
Rechard Heselton

*This work has Japanese audio and English subtitles.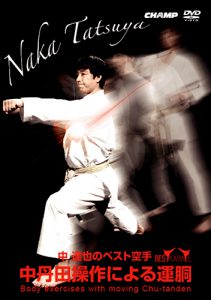 Purchase from here
Click here for VOD ver. (with trailer)
Click here for DVD ver.
#karate #karatedo #Naka #Tatsuya #JKA #best #tanden