In this work, he reveals many techniques that are difficult for the opponent to react to, such as the basics, evolution, application, and operation method of "Gyakuzuki".
Unbalance is the ultimate power… but this unbalance must be controlled and created. To do this, let Kata pass your blood and wisdom to create your own Kata. And it will be used for Kumite techniques.
"Kata creates sense from unbalance, and training creates mental stability."
The BEST KARATE 2 of TATSUYA NAKA -"GOKUI" The Innermost Secret of Naka Tatsuya- from CHAMP_JKFan on Vimeo.
*This work has Japanese audio and English subtitles.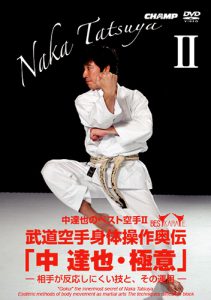 Purchase from here
Click here for VOD ver. (with trailer)
Click here for DVD ver.
#karate #karatedo #Naka #Tatsuya #JKA #best #gokui