KATA GUIDE BOOK of Shotokan Tokui Kata 2
Appeared as an electronic book in English. It is very useful for learn Kata.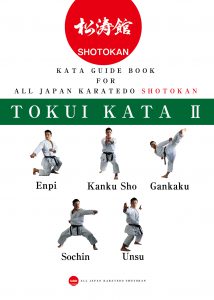 Supervision / ALL JAPAN KARATEDO SHOTOKAN
The contents of this book;
・Photograph
・Stance
・Movement of the foot
・Movement of the hand
・Point
・Figure of footwork
Enbu / Mr. Kazumasa Moto
Contents
Enpi
Kanku Sho
Gankaku
Sochin
Unsu
You can buy it here
Amazon.com
and your coutry's Amazon
Search for "karate champ" on Amazon
.Click on the flag to access Amazon Kindle Store in your country














There are many other books about karate here.
For more information, search for "karate champ" at the Amazon Kindle Store.You will surely find what you want.
CRICK HERE!