Matches for future Olympic selection
The world situation surrounding COVID-19 is becoming more and more confused. Karate Olympic selection match. Postponement of the Rabat Premier League (PL) reported in the previous Newsletter (February 9, No.82). As a result, I was forced to change to Lisbon. We will inform you of the schedule of the remaining 3 games to be selected. April 30-May 2 PL Lisbon (Portugal). May 19-23 European Championship Porec (Croatia). June 11-13 Final Tournament Paris (France). In these games, we ensure the safety of athletes and related parties, and conduct fair selection for athletes around the world. So, at the Olympic Games this summer, the Nippon Budokan will send the world's highest level karate to the whole world. Is the mission of us at WKF
PL Istanbul inspection report
This March 12-14, WKF official event in Istanbul (Turkey). The PL was held for the first time in a year. Infection control formulated by WKF. The ultimate touchstone for how far you can actually carry out and thoroughly implement on-site. It is an important tournament. I am the President of Espinos, the Board of Directors and Players of Davide. I participated with the chairman of the association and inspected in detail. By officer and player. Thorough corona test, in my case 5 PCR / antigen tests in 9 days. It was participation while being inspected. Some issues remain in terms of avoiding three stakes. However, infection countermeasures can be implemented as expected, and future selection tests will be conducted.I was able to deepen my confidence in the joint implementation.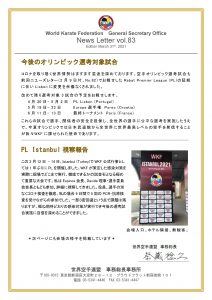 Karatedo Magazine JKFan May 2021
ONLY $9.18!!
.Click on the flag to access Amazon Kindle Store in your country














There are many other books about karate here.
For more information, search for "karate champ" at the Amazon Kindle Store.You will surely find what you want.
CRICK HERE!