PL Lisbon inspection report
The final PL to decide the Olympic Standing was held in Lisbon from April 30th to May 2nd.
A wonderful tournament full of desperate enthusiasm and expectations of players from each country, such as players who will be decided to participate in the Olympic Tokyo tournament depending on the result of this game, players who will be decided whether or not to participate depending on the result of this game and the result of the European Championship three weeks later. have become. I have witnessed once again that the world's karate is becoming more diverse and improving day by day, such as the timing, posture, and luck of the techniques used in kumite.
I look forward to the great inspiration of Japanese players at the Nippon Budokan in August. COVID-19 countermeasures were strictly implemented based on the WKF Protocol following the previous Istanbul. The tournament ended without any infected person. However, it was also a tournament that made participants from all over the world aware of the difficulty of running all day, thoroughly avoiding three stakes and securing distance.
I think we must not forget that all things have "the truth in the field".
Esat Delihassan
WKF Director, Chairman of the Turkish Karate Federation Sudden death
The appearance of the Premier League, Istanbul in March was announced in the previous issue. Esat Delihassan, who spearheaded this and led the WKF official event to success for the first time in a year, died on April 19th after being hospitalized for just over a week due to COVID-19. He is 52 years old. He raised many Olympic athletes and was just his life devoted to karate. We pray for the souls from the bottom of my heart.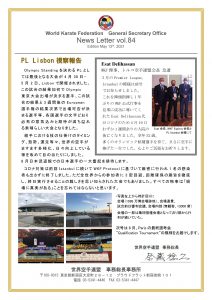 Karatedo Magazine JKFan Jun. 2021
ONLY $9.25!!
.Click on the flag to access Amazon Kindle Store in your country














There are many other books about karate here.
For more information, search for "karate champ" at the Amazon Kindle Store.You will surely find what you want.
CRICK HERE!