Two Karate athletes have been included in the Refugee Olympic team
Wael Shueb and Hamoon Derafshipour.

The International Olympic Committee (IOC) have announced the names of the athletes who will represent the IOC Refugee Olympic Team at the Tokyo 2020 Olympic Games. Two Karate athletes have been included in the team: Wael Shueb and Hamoon Derafshipour.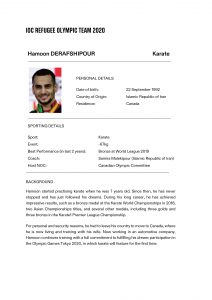 Competing in the modality of Kumite, Hamoon Derafshipour will participate in the Male Kumite -67kg category. Originally from Iran, Hamoon Derafshipour moved to Canada where he now lives and trains. He has the bronze medal at the 2018 World Championships as his best result. The karateka to compete in the Olympic Games Tokyo 2020 in Kumite also claimed five medals in Karate 1 events including golds in the 2017 Karate 1-Series A Istanbul, the 2014 Karate 1-Premier League Jakarta, and the 2013 Karate 1-Premier League Istanbul. He is also a two-time Asian champion.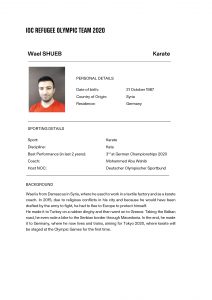 Meanwhile, Wael Shueb will compete in the Male Kata category. Born in Syria, the karateka now lives in Germany where he trains and teaches Karate. The IOC Refugee Athlete Scholar was a former Syrian champion and finished in the tenth position in the 2020 national championships in Germany. He also represented his country of origin in the 2016 and 2012 editions of the World Championships.
Karatedo Magazine JKFan Jul. 2021
ONLY $9.10!!
.Click on the flag to access Amazon Kindle Store in your country














There are many other books about karate here.
For more information, search for "karate champ" at the Amazon Kindle Store.You will surely find what you want.
CRICK HERE!