TOKYO2020
"32nd Olympic Games Tokyo 2020" ends successfullyAfter that, karate made its long-awaited Olympic debut.
● Thanks to the Japan Karate Federation / Organizing Committee
2014 "IOC Agenda2020" issues host city proposal rights
Table, official decision by the 2016 IOC Session, by Corona 1
After seven years of hardship, such as postponing the year, karate relations around the world
The dream of the person has come true.WKF and Japan Karate Federation's unprecedented close collaboration.As a result, this dream achieved is exactly "the time of heaven," "the advantage of the earth," and "people."It can be said that it is the realization of "the sum of".We would like to express our sincere gratitude to all the members of the Japan Karate Federation, including Chairman Sasakawa, the members of the Federation, and the Karate Team of the Organizing Committee.I will raise it.
● Thanks to our ancestors
100 years ago, "Hainan no Shingi" Karate was introduced from Okinawa to the mainland.
Focusing on the student federation, which boldly established the game system, flew to the world and took root in the field
The ancestors who spread karate, the practitioners of the whole world who accepted and inherited Japanese martial arts as their own,Surprise of WKF executives who worked hard to organize and finally established themselves as an IOC-recognized World Karate Federation.Effort to be done. If any one of these was missing, it wouldn't be today. Thinking of these people, it originated in Japan.The day when the martial arts of Japan will be sublimated into Universal Sport and will be shown at the Nippon Budokan
There was something.
● Aiming for a permanent Olympic event
Our WKF completes "tradition" and "innovation" based on the basic philosophy that "shape" and "kumite" are the two wheels of karate.
We will continue to strive for total harmony. The value inherent in karate is given to diamonds.If so, I still have to be aware that it is a rough-cut rough stone. Polish this and shine martial arts.We will do our utmost to make it a permanent event for the Olympic Games as a port.The long journey continues with Paris, Los Angeles and Brisbane. Your continued guidance, support, and cooperation
Thank you.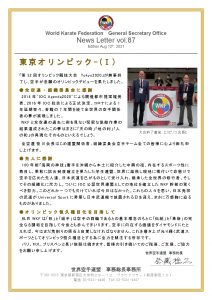 ---
Karatedo Magazine JKFan Sep. 2021
$0.00!!  You can read FREE
.Click on the flag to access Amazon Kindle Store in your country














There are many other books about karate here.
For more information, search for "karate champ" at the Amazon Kindle Store.You will surely find what you want.
CRICK HERE!