TOKYO2020
The karate competition was held for three days on August 5, 6 and 7, with medals confirmed during the day for each event. Participating athletes are 5 continents, 36 countries / regions (hereinafter referred to as "countries") + 2 refugee quotas. There are 42 boys (including 2 refugee players) and 40 girls, a total of 82 elite players.
1.Gold medal winners are the athletes who ranked 1st or 2nd in the Olympic Standing in 6 of the 8 events.
2.Eight countries that have won gold medals (only one in each country, no countries that have won multiple gold medals)
3.20 countries that have won medals
4.Ranking of the number of medals
Turkey 4, Japan 3, Spain, Egypt, Italy, Azerbaijan, China, Ukraine, Kazakhstan 2 each, 11 other countries 1 each
The Olympic Standing Top players, who won through 25 selected games for three years, successfully won the gold medal. In addition, the fact that 20 countries have won medals clearly shows how karate is spreading and cultivating all over the world. Some of the strongest nations are aiming to improve their competitiveness through training camps of 300 days or more a year, have long-term contracts with excellent coaches around the world, and frequently carry out international exchanges (joint practice, etc.). We can see the seriousness of working on karate with many countries and federations.
◆ About game content and progress
This matter will be analyzed and examined in detail by each WKF committee, and will be utilized in future operations. The following is a summary of the opinions received after the competition that the WKF should refer to (not the official WKF opinion).
1.KATA: ・ I was overwhelmed by the unique world of power, skill, spirituality, etc., and felt a strong charm.
・ Judgment criteria are difficult to understand.
2.KUMITE: ・ Dynamic footwork, complicated step work, etc., which is more powerful than the conventional concept of karate.
Many games were seen. While I feel a great improvement from traditional techniques, there are also aspects that are thought to be a setback.
・ The speed of the technique is fast and it is difficult to determine the score.
・ I don't understand the criteria for foul play and the gesture of the referee.
3.Injuries: ・ Injuries were more frequent and heavier than in regular WKF official games.
Isn't it?
・ As a martial arts sport that advocates safety and security, there are injuries that occur in important situations.
It was just in case.
4.Video Review: ・ The frequency is too high, and a good match is going on. As a result, the competition progresses
Is delayed. (VR to coach every match as a special Olympic rule
Granted 1 Card. In the regular WKF official competition, 1 piece in the whole qualifying, 3rd place
One card will be given for all of the final battles and above. )
・ The VR image is unclear and the judgment is difficult to understand.
◆ Guest
The debut of karate at the Olympic Games was a big hit, and we heard many guests praising the attractiveness of the form, and being surprised by the diversity and technical level of the players participating in Kumite. I feel that we have received strong support for the future permanent event of the Olympic Games.
The guests include the following people.
Bach IOC President, Robin Mitchell IOC Vice President, Nicole Hoevertsz IOC Vice President,Infantino FIFA President, Jose Perurena IWGA President, Gunila Lindburg ANOC Secretary-General,Seiko Hashimoto, Chairman of the Organization Committee, Toshiaki Endo, Vice Chairman of the Organization Committee, Toshiro Muto, Secretary-General of the Organization Committee,Minister in charge of the Tamayo Marukawa Olympics, Yasuhiro Yamashita, JOC Chairman (in no particular order)
At the closing ceremony, karate players from 13 countries, including gold medalist Ryo Kiyuna, acted as standard-bearers.
It can be said that it is a symbolic event that proves the great success of the first Olympic Games.
And this marks the beginning of the next "Olympic Journey" for WKF.
Women's + 61 kg, Egyptian Abdelaziz and Iran Abbasali match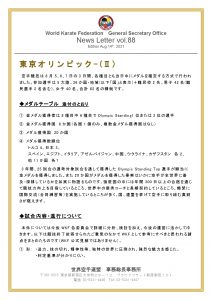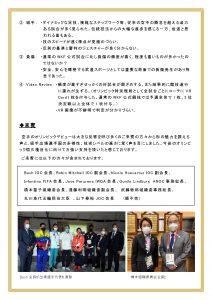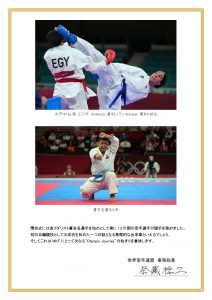 ---
Karatedo Magazine JKFan Sep. 2021
$0.00!!  You can read FREE
.Click on the flag to access Amazon Kindle Store in your country














There are many other books about karate here.
For more information, search for "karate champ" at the Amazon Kindle Store.You will surely find what you want.
CRICK HERE!