The English version of JKFan, the only karate magazine in the world, has been released this month.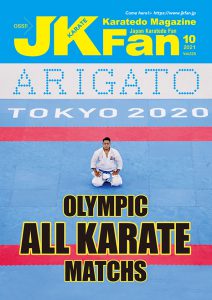 The first Olympics for karate.
Clearly record all games, that is, ALL KARATE RECORDS!!
If you look at this, you can see everything about the Tokyo Olympic!
Until now, you could only read in Japanese.But from this month, you can read in English.
So we want everyone in the world to know about karate more than ever.
The English version of JKFan can be purchased at the Amazon Kindle Store (e-books only sold).
Karatedo Magazine JKFan Oct. 2021
$0.00!!  You can read FREE
————-contents—————
OLYMPIC ALL KARATE MACHS!!
ARIGATO TOKYO 2020
Tokyo 2020 Olympic Games
KARATE Permanent Edition All Records
Yoyogi National Stadium/Team Japan/Nippon Budokan/medal standings
Men's Kata
This day he became a legend The Budoka's appearance Ryo Kiyuna
Women's Kata
A close final Olympic Karate, the first gold medalist Sandra. Sanchez
Men's Kumite over-75kg
Sajad Ganjzadeh, the Shocking Conclusion Araga shows his mettle in bronze
Men's Kumite 75kg
L. Busa defeats the legend for the gold medal!
Women's Kumite 55kg
The amazing 21-year-old fighter brings a historic victoryto the Bulgarian Karate Ivet Goranova!
Men's Kumite 67kg
French treasure A brilliant gold medal Steven Dacosta!
Karate Special Talk
With the pride of a gold medalist…
Ryo Kiyuna Men's Kata Gold Medalist
Women's Kumite over-61kg
Flutter like a butterfly, gold medal Feryal Abdelaziz!
Women's Kumite 61kg
All matches won! Gold medal for complete victory Jovana Prekovic!
LATEST NEWS
All JAPAN KARATEDO SHOTOKAN
SHITOKAI
RENGOKAI
GOJYUKAI
WADOKAI
JAPAN KARATE ASSOCIATION
And More
---
.Click on the flag to access Amazon Kindle Store in your country














There are many other books about karate here.
For more information, search for "karate champ" at the Amazon Kindle Store.You will surely find what you want.
CRICK HERE!