The English version of JKFan, the only karate magazine in the world, has been released this month.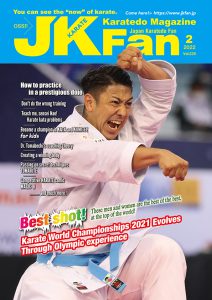 We want everyone in the world to know about karate more than ever.
The English version of JKFan can be purchased at the Amazon Kindle Store (e-books only sold).
Karatedo Magazine JKFan Feb. 2022
$0.00!!  You can read FREE
————-contents—————
25th KARATE WORLD CHAMPIONSHIP Dubai 2021
Best shot! These athletes arethe best of the best,
at the top of the world!
The 49th JAPAN CUP KARATEDO
Whether or not Ryo Kiyuna will win his 10th consecutive title
OSS!! TOPICS
Kata demonstration by a total of 200 students of Ryuei Ryu
Ryo Kiyuna's gold medal performance from the Tokyo Olympics
Prestigious Dojo Practice Menus Exploring
Kanagawa Prefecture Yokohama Kita Shotokan
Teach me, Sensei Nao!
Kihon-kata 2 /Heian-yondan Part 2
Power Line TrainingTraining
Increase the depth of you technique with simple training !
Dr.Tomabechi's Coaching Theory
by Hideto Tomabechi
Kaiha of JKF / LATEST NEWS
All JAPAN KARATEDO SHOTOKAN
SHITOKAI
RENGOKAI
GOJYUKAI
WADOKAI
JAPAN KARATE ASSOCIATION
Release the Secrets of Okinawan Traditional KARATE
I used to hate kata practice, but I began to realizethat the essence of
karate lies in kata.
Tube Training for Karate-do
Cooperation: NPO Japan Karate Shoto Federation Sohonbu Dojo
Are you training the wrong way?
Hiroki Mekaru
Creating a winning body
By Mari Hirano:Sports Nutrition Coach
Let's warm up your body.
Dance Training at Home for Karate! by pro dancer Yutaro Iisaku
Karatedo Comic "MAGIC Ⅱ"
and more…
---
.Click on the flag to access Amazon Kindle Store in your country














There are many other books about karate here.
For more information, search for "karate champ" at the Amazon Kindle Store.You will surely find what you want.
CRICK HERE!