The English version of JKFan, the only karate magazine in the world, has been released this month.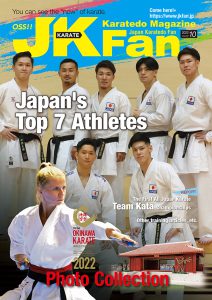 We want everyone in the world to know about karate more than ever.
The English version of JKFan can be purchased at the Amazon Kindle Store (e-books only sold).
Karatedo Magazine JKFan Oct. 2022
$0.00!!  You can read FREE
The English version of JKFan, you can read not only e-book but also paparback!

————-contents—————
JKFan Top News
2023 Premier League in Japan

GSTC Seminar
Japan's top 7 athletes gathered!
The 1st All Japan Karatedo Team Kata Tournament.
Team Kata competitions held at the theater
Strength and Flexibility Beauty Leg Spreads from Kids
Jodan-geri leg spreading exercises for one rank up
Introducing the University TEAM
Tenri University Karate Team
Our slogan is "Itte Hitotsu ", unite everyone's hearts and minds completely
Dance Training at Home for KARATE
Take another look at your daily training by Hiroki Mekaru
Dr.Tomabechi's Coaching Theory
by Hideto Tomabechi
Prevention & Treatment Strategies
Release the Secrets of Okinawan Traditional KARATE
by Takahiro Shinjo,
Okinawa Tomari-te Master
Main Kaiha of JKF / LATEST NEWS
All JAPAN KARATEDO SHOTOKAN
SHITOKAI
RENGOKAI
GOJYUKAI
WADOKAI
JAPAN KARATE ASSOCIATION
Karatedo Comic "MAGIC Ⅱ"
The 2nd Okinawa Karate World Tournament
And more…
---
.Click on the flag to access Amazon Kindle Store in your country














There are many other books about karate here.
For more information, search for "karate champ" at the Amazon Kindle Store.You will surely find what you want.
CRICK HERE!