The WKF President visited Tokyo from 15th to 18th January, as a very important milestone of the campaign for the 2020 Olympic Karate. He participated, together with the President of the JKF, Mr. Takashi Sasagawa, in a gathering with the representatives of the JKF style organizations, and also he met the Minister of Sport of Japan Mr. Hirofumi Shimomura. The trip concluded with a Press Conference organized by the JKF, attended massively by representatives of Japanese press and TV.
This visit to Japan, motherland of Karate, has been an outstanding success in the way of assuring the full support of Japan to the Olympism of Karate. During his stay in Tokyo, the WKF President also held several meetings with the JKF and with the JKF President, Mr.Takashi Sasagawa, giving a detailed update on the process and all the elements necessary for allowing the JKF a full, well grounded, and active support of Karate's candidature.
From this WKF webpage, the WKF President Mr. Antonio Espinós wants to thank the JKF and very especially its President Mr. Takashi Sasagawa for all the interest, for the perfect and professional preparation of the visit and for the full support to the "K is on the way" campaign.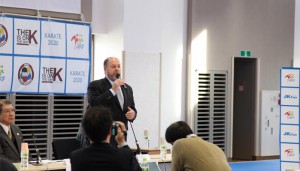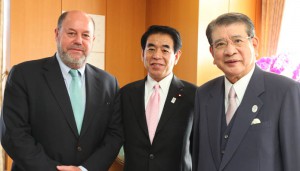 From left to right: Antonio Espinós (WKF President), Hirofumi Shimomura (Sports Minister), Takashi Sasagawa (JKF President)