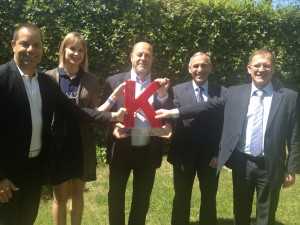 Facebook
Karate has 2.845.000 followers. Compared with the Olympic Sports it would be placed in the top 9th of the ranking.
The specific web page for "The K is on the way" makes Karate a huge world reference, especially among the young people. It has been watched more than 10 millions of times.
Youtube
•2.400.000 video views.
If Karate would be an Olympic Sport, in this section, it will be placed amont the top 10. The WKF Youtube Channel provides a global platform to Karate and serves as transmission chain of the 17 TV channels that broadcasted the last World Championships.
The staff of WORLD KARATE FEDERATION is in Saint Petersburg, in SPORTACCORD CONVENTION.
During this meeting, the IOC will decide on the 29th May the sports that will be shortlisted for the final decision by the IOC Session in Buenos Aires (Argentina) next September on the Olympic Program.
The team of WKF is:
•Antonio Espinós – President. (SOKOS HOTEL Palace Bridge).
•George Yerolimpos – General Secretary ( SOKOS HOTEL Palace Bridge).
•Francis Didier – French Federation Karate and Executive Committee WKF (Park Inn by Radisson Pribaltiyskaya Hotel)
•Tessy Scholtes – Athletes Committee WKF (Park Inn by Radisson Pribaltiyskaya Hotel)
•Davide Benetello – Athletes Committee WKF (Park Inn by Radisson Pribaltiyskaya Hotel)
•Fernando Román – Tecnhinal Support WKF
•Emilio García Carrasco – Communication Manager WKF