All Karate Stars worldwide support the Olympic aspiration of the WKF (World Karate Federation). To the campaign "The K is on the way" – which is being massively followed and supported by all the Karate Family – now it has been added the new motto YES, I'M K" that confirms and multiplies the passion for Karate becoming an Olympic Sport in 2020.
The "K" and "YES, I'M K" have received the support of all the continental and world champions. Supports from Africa, America, Asia, Australia and Oceania have been received and it has been especially significant the one from the Kumite French Male Team, current World Champion and brilliant European Senior Champions after its amazing victory in the recent Budapest European Championships.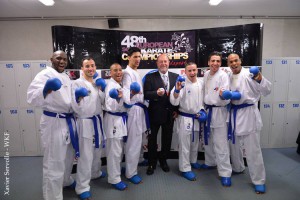 There, in the Hungarian capital city, only a few days away from the important San Petersburg presentation before the IOC Executive Board, all the Karatekas have wanted to show their unconditional passion and faith  on the achievement of the Karate  Olympic Goal. Many of them have declared that they would willingly give up their World or European titles for having the experience of taking part in the Olympic Games.