The English version of JKFan, the only karate magazine in the world, has been released this month.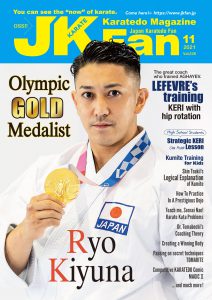 We want everyone in the world to know about karate more than ever.
The English version of JKFan can be purchased at the Amazon Kindle Store (e-books only sold).
Karatedo Magazine JKFan Nov. 2021
$0.00!!  You can read FREE
————-contents—————
JKFan Top NEWS
The 25th WKF World Championships to be held in November
The Glory of the Tokyo 2020 Olympic Games Karate vol.1
Gold Medalist Ryo Kiyuna"
Ma-ai theory to control the fight
Takamatsu Central High School, Koichi Sakiyama
Master of Strategy Koichi Sakiyama's KERI
One Point Lesson:Kick the "opposite" side of the base leg! Snake Kick
Ryutaro Araga's Seminar in HOKKAIDO
Olympic medalist makes "triumphant" return to teach!
Junior Lefevre Seminar in Naniwa part2
Use hips rotation to get better at keri!
All Japan Boys and Girls Karatedo Tournament
Grow up to be an elite athlete!
Kumite Training for Juniors
Hakushinkai-Shimizu-dojo
Release the Secrets of Okinawan Traditional KARATE
Kenryu Doshikai Takahiro Shinjo
TOMARITE……
Passing on the secrets of practical combat
By Yoshitomo Yamashiro
Prestigious Dojo Practice Menus Exploring
Taiseikai in Osaka Prefecture
Coaching Theory
by Hideto Tomabechi
Teach me, Sensei Nao!
Nao Moro-oka's lesson on how to solve problems for kata players 084-086
Power Line Training
Practice by the mighty Hyogo Technical H.S.!
Dance Training at Home for Karate!
by pro dancer Eriko Iisaku
LATEST NEWS
All JAPAN KARATEDO SHOTOKAN
SHITOKAI
RENGOKAI
GOJYUKAI
WADOKAI
JAPAN KARATE ASSOCIATION
Creating a winning body
Karatedo Comic "MAGIC Ⅱ"
And More
---
.Click on the flag to access Amazon Kindle Store in your country














There are many other books about karate here.
For more information, search for "karate champ" at the Amazon Kindle Store.You will surely find what you want.
CRICK HERE!